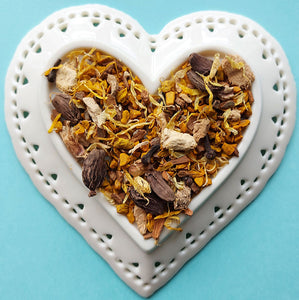 50g ♥︎
Heather has specially blended this herbal tisane with anti-inflammation in mind, we'll let you be the judge on that. It is naturally spiced, like a herbal chai tea, and contains no caffeine.
For the caffeinated product with green tea - visit this product.
Ingredients: Turmeric root, thai ginger root, cinnamon pieces, cardamom pods, cloves, calendula petals, black peppercorns. 
*All products may contain nuts and allergens.
*Be sure to consult your doctor before using this tisane for health purposes.